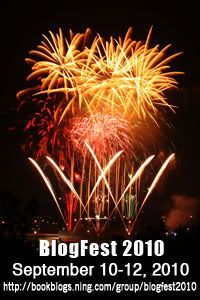 BlogFest
is a virtual event on
September 10-12
,
where a list of participating blogs will be offering a fantastic giveaway for readers to enter. Each blog will link to another, pulling readers through the fantastic party we'll have set up for them!
It's a great way to increased traffic to your blog, get out and meet some fellow bloggers and just have fun!.
Ok so now that you have an idea about BlogFest, you know why I am looking for sponsors. I will have a giveaway going on and I want it to be the best!! Right now I'm just thinking about a gift card...but it would be cool if you want to help me!
How to help me?
Become my sponsor. It is really easy, you just have to contact me over here: magabygc(@)gmail.com and we can talk about it.
The Rules
Related to books please! Reading, writing...whatever, as long as it is about books. (I'm thinking here about some finished copies, arc's, journals, goodies...etc.)
And that's it. If you could help me, that would be amazing and I'm sure my readers will be extremely happy!
Thanks :)